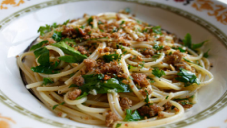 Ingredients:
1) 1 Cup Coarse Homemade Bread Crumbs
2) 1/2 Teaspoon Lemon Zest
3) 2 Tablespoons Olive Oil
4) Salt & Pepper
5) 1 Pound Spaghetti
6) 1/2 Cup Extra Virgin Olive Oil
7) 5 Large Cloves Of Garlic, Minced
8) Juice Of 1 Lemon
9) 2 to 3 Dry Hot Red Chili Peppers, Crushed
10) 1/3 Cup Finely Chopped Fresh Parsley
Method:
1. In a heavy frying pan, heat the oil and add the bread crumbs, lemon zest, salt & pepper.
2. Cook over medium heat, stirring often until the crumbs are crisp and light brown.
3. Set aside.
4. Cook the pasta in salted boiling water.
5. While it is cooking, heat the oil in a small, heavy saucepan.
6. Add the garlic and chili peppers and cook until sizzling but not browned.
7. Remove from the heat.
8. Once the pasta is cooked al dente, remove a small cup of pasta water, and drain the pasta.
9. Return to the pot, and add the garlic oil, and lemon juice.
10. Mix well over medium heat until hot, adding a little pasta water if the mixture seems dry.
11. Add the parsley, mix well and serve with the crispy bread crumbs on top.